Presentation residency Sarah Rose Guitian Nederlof
Expected at the end of August
In collaboration with Stedelijk Museum Breda and thanks to Stipendium01 by foundation KLEIO, artist Sarah Rose Guitian Nederlof will stay at Witte Rook for a two months residency. Her residency is a follow-up of the project Brieven uit Spanje (Letters from Spain), and it focuses on further investigating the concept of the migrant-artist and the relation between Spain and the Netherlands. A parallel project which similarly focused on this relation to which she also contributed through a lecture was Vuelta//Arte.
Sarah Rose Guitian Nederlof
La Sobremesa (work title) is a research project centered on the habits around food culture. More specifically to investigate the differences and similarities between Dutch and Spanish culture.
Instead of looking only at the gastronomy of food, Sarah shifts the attention focussing on the utensils that accompany them. More concretely, focussing on the napkin. What does this disposable object tell us about our relation to food, and our habits shaped by culture? The tangible and material qualities of a napkin allow her to play with it from a sculptural point of view, capturing in its shape the interaction between user and object.
For the coming two months Sarah will live and work in Breda, researching the traces of Spanish migration on different grounds; while exploring the aspects where these two cultures meet.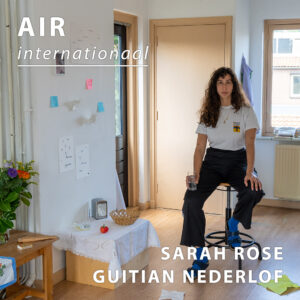 Geplaatst op 06.07.2022.