Presentation La Sombresa and finissage of the residency of Sarah Rose Guitian Nederlof
Witte Rook in collaboration with Stedelijk Museum Breda invite you to the presentation of the artistic research of Artist in Residence Sarah Rose Guitian Nederlof. On Friday August 26th there will a finissage from 4 till 10 PM at the venue of Witte Rook where in the presence of the artist the results of her residency will be exhibited.
La Sobremesa is a research project in which Sarah Rose Guitian Nederlof centered on the habits around food culture. More specifically to investigate the differences and similarities between Dutch and Spanish culture. Instead of looking only at the gastronomy of food, Sarah shifts her attention focusing on the utensils that accompany them with a focus on the napkin. She wonders about the function of this disposable object and what we can learn about our relation to food, but also our habits shaped by culture. The tangible and material qualities of a napkin allow her to play with it from a sculptural point of view, capturing in its shape the interaction between user and object.
"Placing these thoughts on the napkin, researching, and developing several outcomes, some even implying new collaborations. Do our hands remember how we used to fold a napkin without using one? What can a napkin tell about one's culture, and how our cultural background has been influenced by our gestures? Can ordinary objects become culture carriers? My time in Breda, a city which was before unknown to me, has been very introspective. Spending a lot of time alone, wondering about the influences of space and how it is when you displace yourself purely because of work. What does this do to our sense of being, or our creative process?"
The final presentation of this residency will be presented in the form of an Open Studio. The different investigations have been translated using different mediums such as performance, sculpture, writings, photography, film, collected napkins and soundscapes. These different approaches come together in one space creating new narratives and open for new dialogues and shared experiences.
Location and time
August 26th from 4 – 6 PM
Witte Rook
Stationslaan 111
4815 GW Breda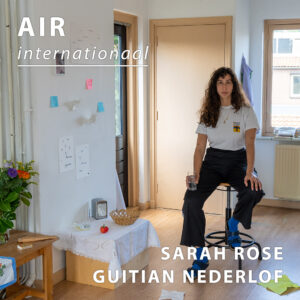 Geplaatst op 06.07.2022.