On Sunday 26 November, the finissage will take place in Galerie Ecker at 2 PM with a performance by musician Anat Spiegel in collaboration with De Link in Tilburg. We are proud to announce that during the finissage the Stipend 01 from the Kleio Foundation will also be awarded to Witte Rook in appreciation for the special contribution the organisation makes to art and culture in Breda. Dingeman Kuilman, general director Stedelijk Museum Breda, will present the Stipendium 01.
Programme
2 PM walk-in
3 PM welcome and introduction
3.30 PM presentation of Stipendium 01
3.45 PM performance Anat Spiegel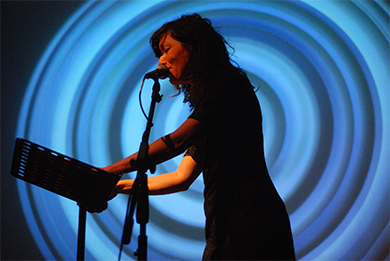 Photograph Marak Choloniewski
Adress
Galerie Ecker, Markendaalseweg 18, 4811 KC Breda
About Stichting KLEIO
Stichting KLEIO awards the Stipend 01 of 2023 to Witte Rook. The stipend is named after Lokaal 01, the artists' initiative that operated from 1981 to 2013 at Kloosterlaan 138. The foundation managed Lokaal 01's premises in Breda and Antwerp. When it ceased operations, the foundation's real estate was sold. From the proceeds of the sale, the fund that awards the Stipendium 01 was founded.
About Anat Spiegel
Anat Spiegel (IL/NL/ USA) is a composer and vocalist specializing in cross-platform performance. Her work stems from a vocal perspective and focuses on the endless expressions of the human voice. In the juxtaposition of jazz, theater and contemporary classical music, Spiegel's compositions consider the cultural gravity of songs and the connection between written language and it's sounding expression. Spiegel is also a member of the composer's collective Monotak and the spoken word duo Noon and Ain and a recipient of the 2020 McKnight composers fellowship.
About the Link
De Link is a concert organization for newly composed music in Tilburg, led by composers, musicians and enthusiasts. For more than 30 years they have been demonstrating the vibrancy of the work of contemporary composers. Every performance is different and can take place somewhere else. During the exhibition Can you live my space? Anat Spiegel also 'inhabits' the space with the question of whether, as a viewer, you start to look at a work of art differently? And vice versa, what does the image do to the music? In the Reflex program, De Link presents short concert performances; interventions in space, with the art itself in collaboration with PARK Tilburg, Witte Rook Breda, Hilvaria Studio's Hilvarenbeek and Expo Cacaofabriek Helmond.
Can You Live My Space? shows the works of 12 artists that participated in the Artist in Residence program of Witte Rook between 2017 and 2022. It is a group exhibition that takes place at three venues simultaneously: De StadsGalerij, and Galerie Ecker in Breda, as well as in a large virtual project room hosted by the common.garden platform. In this exhibition, curated by Cristina Materassi, the works of Anna Püschel (Gent), Bruno De Marco (Berlin), Emmie Liebregts (Breda), Fenna Koot (Breda), Hussel Zhu (Rotterdam), Jui-Tsz Shiu (Taipei), Karina Beumer(Antwerpen), Loran van de Wier (Tilburg), Margot Zweers (Ospel), Simon Whetham (Bristol), Ying Liu(Rotterdam), Yuk Kan Yeung (Breda) are presented.
Geplaatst op 07.11.2023.